Round 8: Skywalkers (Lando)
The last time we saw Lando, Caitalin, and Salla they were moving out of the Morelli household. Lando and Caitalin had a falling out after Caitalin was caught kissing Ranger Morelli. I wonder if these two can once again build a happy family?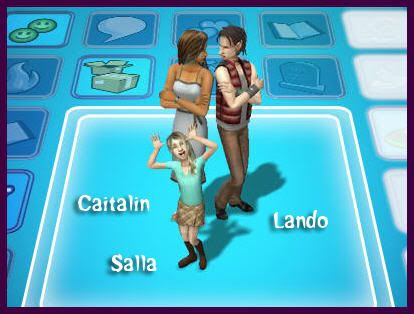 Salla: Hey there everybody! Thanks for coming to see us.
We moved out of the Morelli house and moved into this lovely house. It's small, but we are a small family so it fits our needs.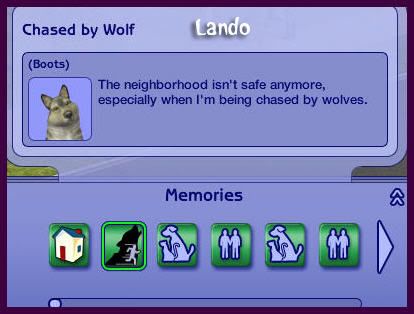 My dad is pretty freaked out . The neighborhood has some unwelcome new residents, wolves!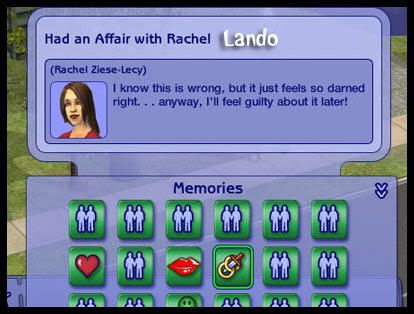 Dad has been acting pretty weird too. I don't know if it's because Mom kissed Ranger or what but he seems to have a secret of his own.
At any rate Mom and Dad do seem to be getting along better now.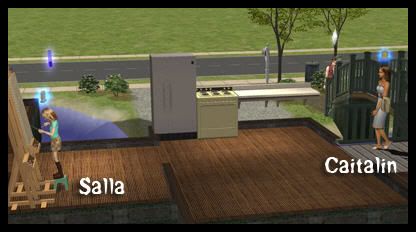 Mom and I both inherited money when Ranger died. Don't tell Dad though he probably wouldn't be too happy about that.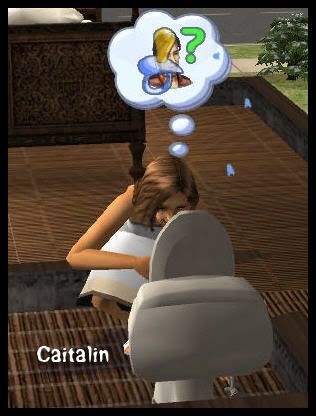 Mom has been feeling sick the last few days. She said to get ready for a new brother or sister soon.
Yep, Mom and Dad said they needed some alone time so I went and painted.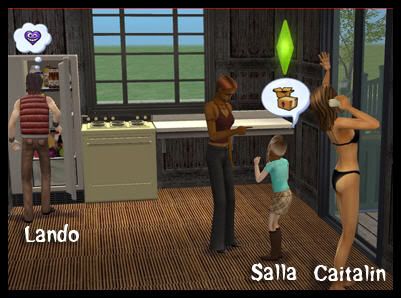 This is one of Mom's friends, I don't remember her name. I thought I'd tell her all about how we moved out of Ranger's house.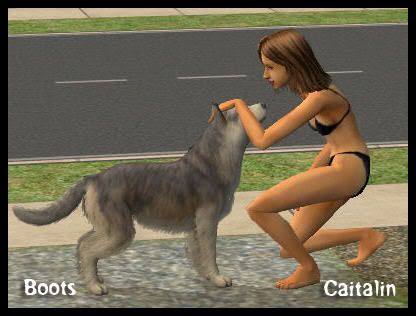 Mom was real happy when this wolf came around. Dad hid inside. Now all Mom wants is to be a werewolf! Eeek!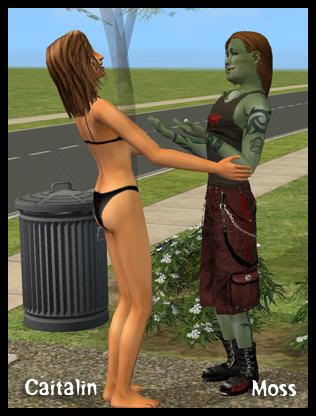 Mom invited her friend Moss over. He's handsome, I think.
And he's fun to have around.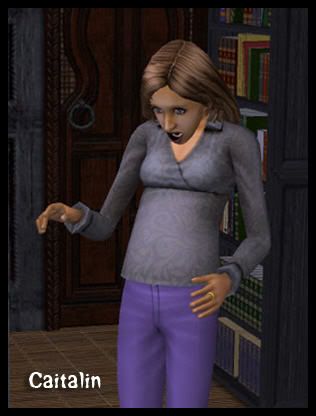 No doubt about it, I'm going to be a big sister soon.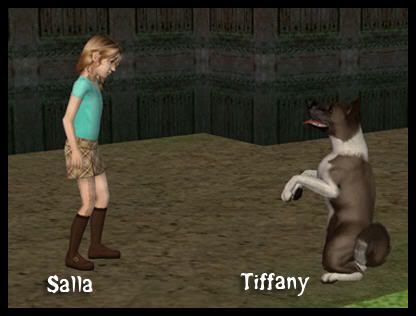 In the meantime, this is Tiffany. She's a stray that I like very much. She isn't mine, but I still thought she should know some tricks.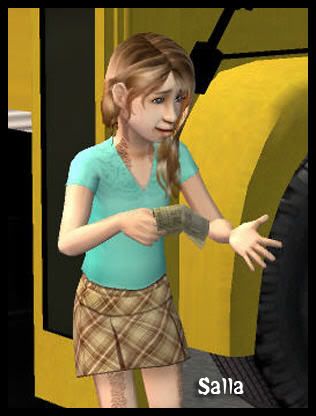 I wasn't too happy to see my grades after my first day at school.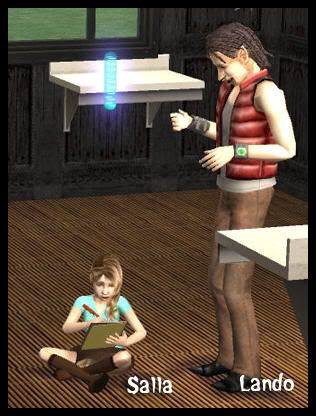 But Dad helped me with my homework, so I'm sure they will start to improve soon.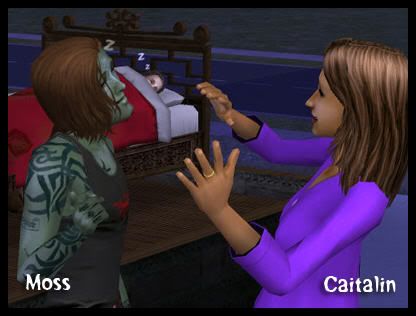 Mom's friend Moss sure is over a lot.
He's funny he likes to talk to the baby.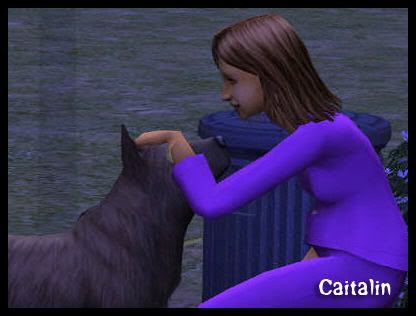 Mom also met the leader of the wolf pack. Man I thought she was obsessed before.
Before I knew it, I heard mom screaming out.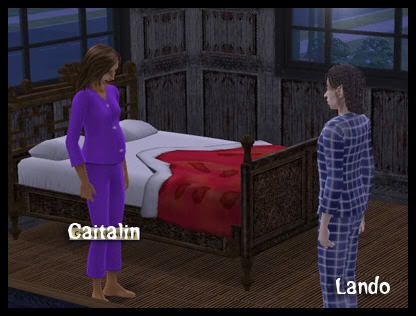 Dad said the baby was on the way and I should wait outside.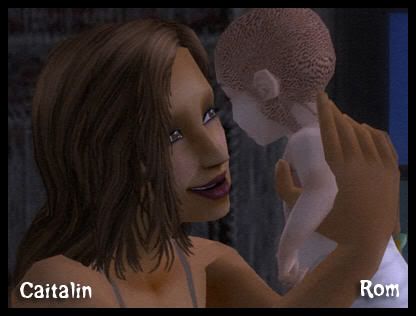 Yes sirree I'm a big sister. This is my little brother Rom.
And boy weren't we surprised, she had twins. She didn't even eat any cheesecake, not that I saw at least.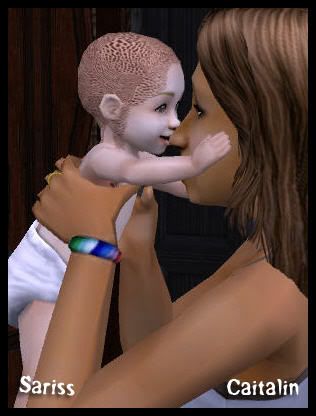 This is my little sister Sariss.
Dad is always so helpful with them.
Keenan Bach came walking by with his dog West.
His twin Caleb had come home with me on the buss, but he was a real bore.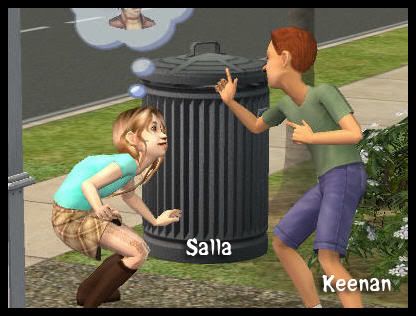 Keenan was fun and we have become fast friends.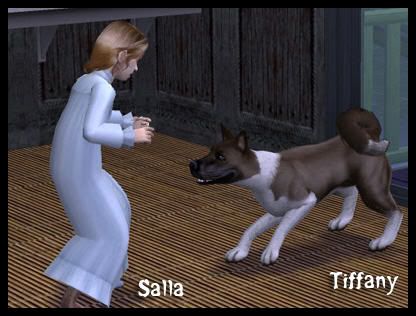 Tiffany came by again. I really want her to be mine, but Mom says our relationship isn't strong enough yet, so I have to wait.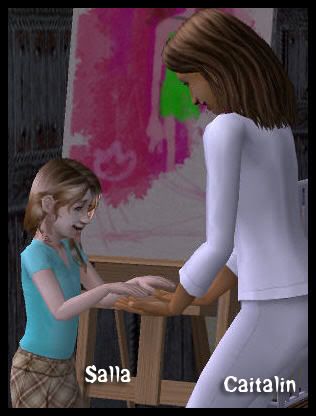 Mom finds time to play with me. She said things are going to get crazy around here once the babies become toddlers and that they'll need me to help out too.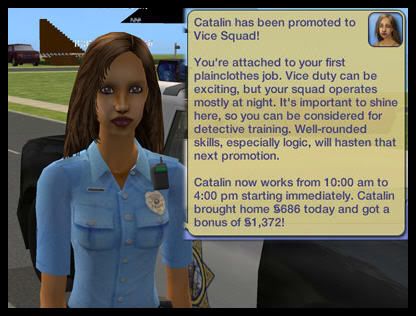 we had an eventful day. Mom got promoted.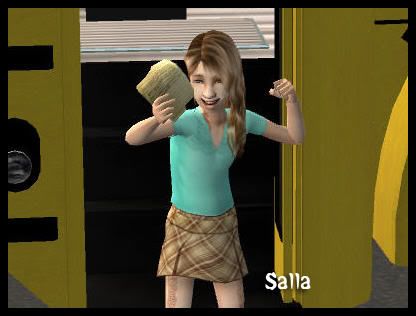 And I got my first A+!!!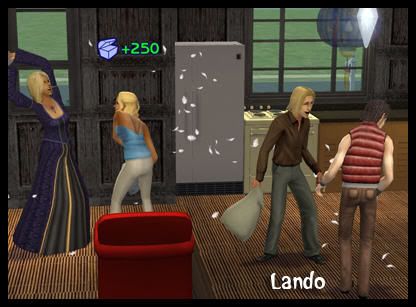 And it was the twins birthdays. Dad invited over some friends over and wouldn't ya know this pillowfight broke out. Weird, it wasn't even a wedding.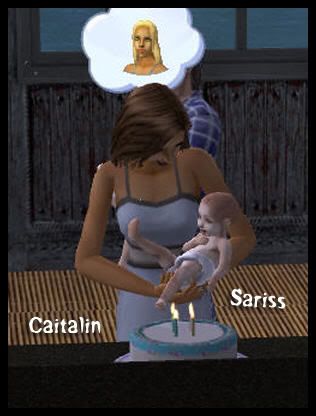 Mom baked two cakes, although I don't know why. They're babies, they wouldn't mind sharing.
Sariss is a cutie, just forgive her the pink tux.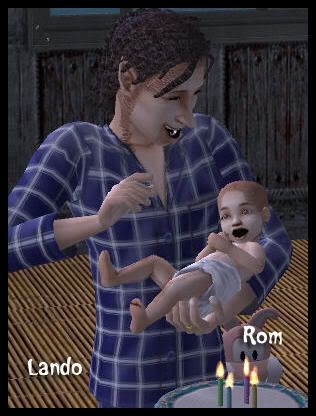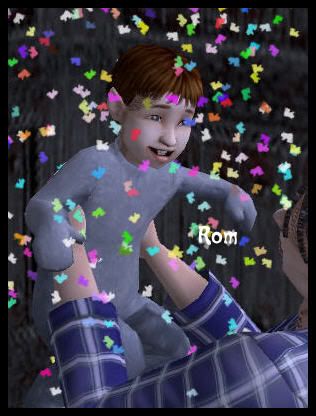 Rom is a cutie too.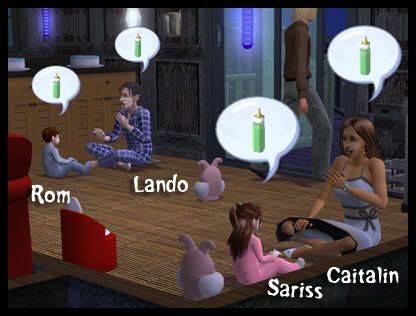 Sure enough Mom and Dad were busy from that point forward teaching the the twins to talk.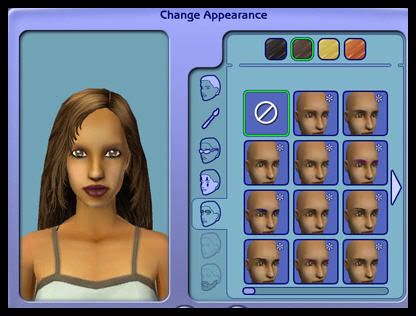 *Simmers note: Something has always bothered me about Caitalin and I finally figured out what it was. She didn't have any eyebrows! Or if she did, they were custom and I didn't have them. Well she has some now. Back to the story.*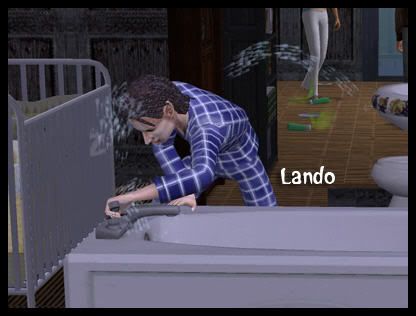 Dad had to fix the stuff that broke around here too. He's real mechanical and we figured we might as well save the money.
No doubt Sariss is a Skywalker. She looks like Dad, only cute and a girl.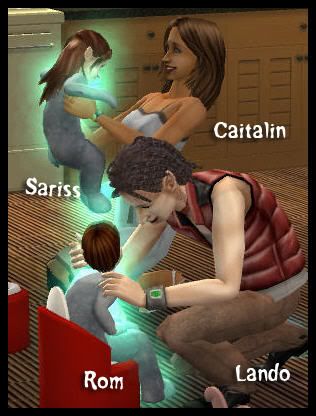 Well then it was time to potty train.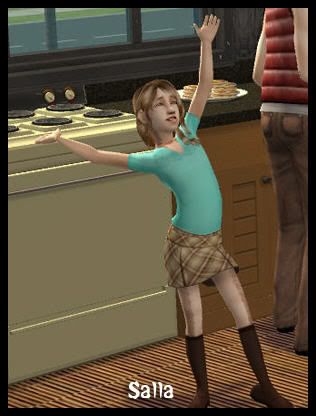 Mom and Dad were busy but I missed the attention.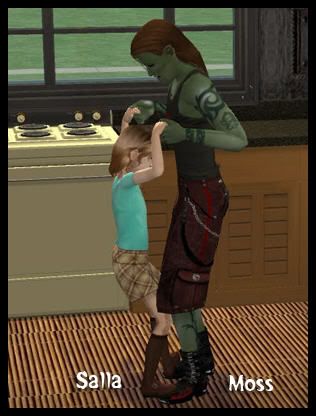 Mom's friend Moss was the only one that seemed to notice me anymore.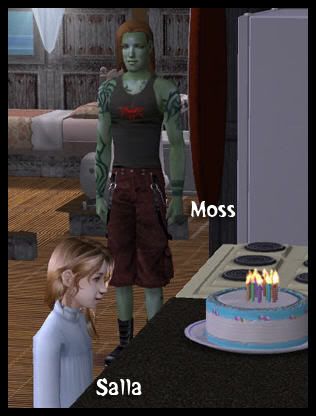 In fact he was the only one awake for my birthday.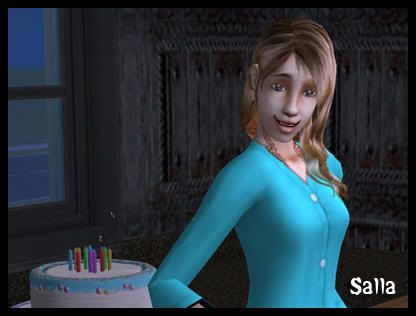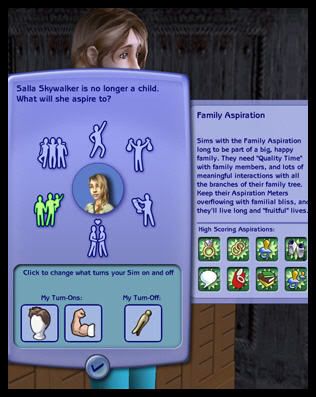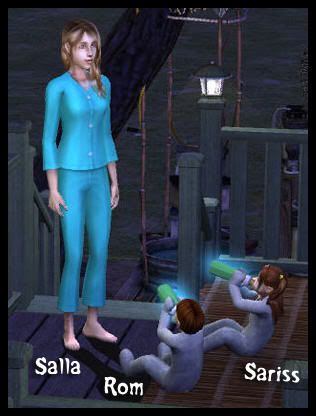 Well Mom was right, they did need my help with the twins. We set out some dog food for Tiffany when she comes by, but the twins always want to play in it.

Dad's friend Rachel came by. She seems like a nice lady although she came in and ate two pieces of birthday quick without barely saying hi.
*Simmer's note: I guess sims really does simulate life sometimes. I love cake!*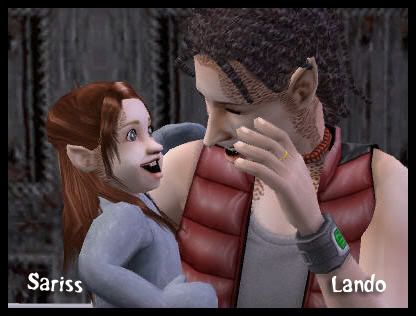 Well it seems things have turned around for our family. Mom and Dad are in love and the twins are wonderful. I hope everything is as wonderful as it all seems.