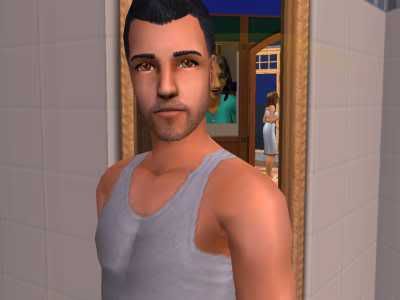 Welcome back folks. Ranger Morelli here again. Life has sure changed since I saw you last. I would let Claire tell you about it, but it seems she is in the family way...again. The biggest question out there is who is the daddy this time?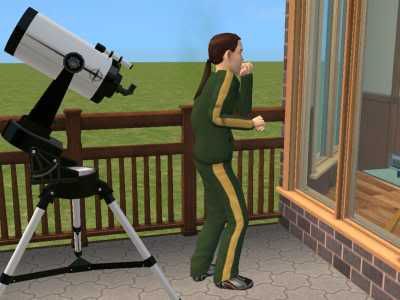 Here is her husband, Ron. It seems he caught the flu at work. Hmm, doesn't the boy know how to clean his hands? Why is he hanging out with the sickly when he is married to Claire? Since he has been trapped for a few days, I am sure he may not be the father.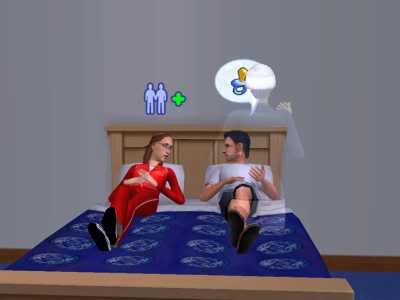 Poor Wen doesn't understand how I still view my daughter Claire as my baby. I have tried to explain to her its what has to happen. She doesn't get it. She thinks I am referring to our kids, Mario & Elizabeth. I would do the same if their spouses were sick also. Connie also came out to discuss the matter, but Wen is afraid of her.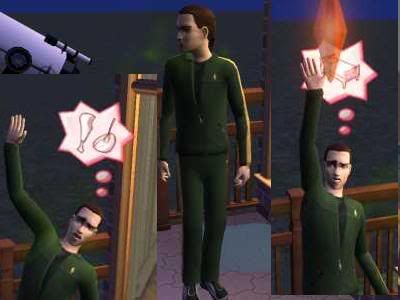 You see, I kind of locked Ron outside on the balcony. I can't let him get my precious family sick. You get sick, you play the price at my house. Sickness is a sign of weakness in my eyes.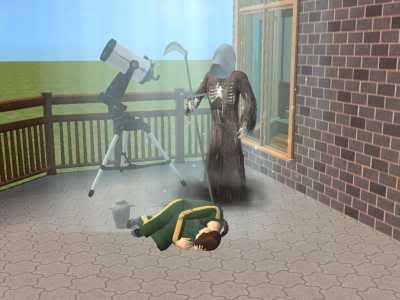 My father was more than happy to come over to get Ron. He didn't like the idea of his grandkids/great grandkids getting this illness.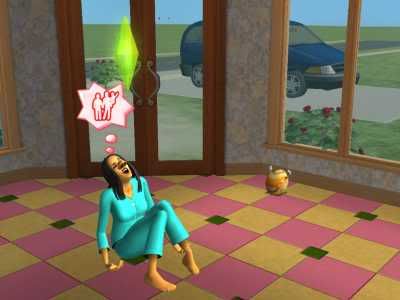 Claire did not take his death too well. She was on the phone with a friend when it happened. She dropped the phone and dropped to the floor. My poor darling needs me now.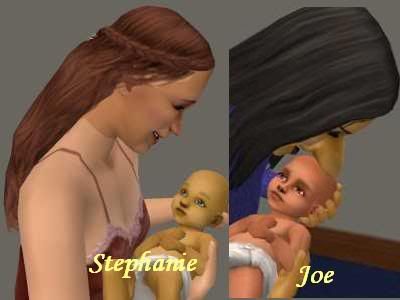 Later the same day, my new grandchildren arrived. Joe looks a lot like me, I think. Stephanie reminds me of my late wife, Connie. Wen seemed happy to help Claire out in her time of need. She loves playing with the babies.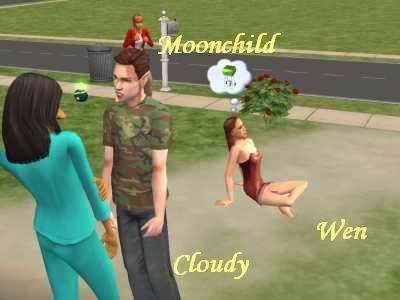 Well, Claire wasted no time calling Cloudy Skywalker over. Why is Moonchild Bach-Jonas so upset? Cloudy seems to be a nice man from what I can tell. Wen was outside and ignored the whole scene. She was mad that she wasn't pregnant again.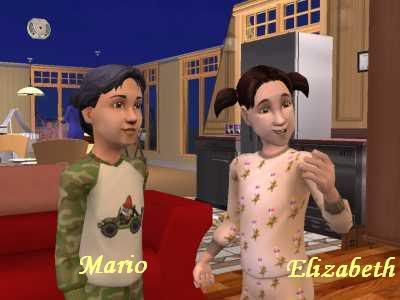 Before I knew it, Elizabeth grew into a child. Mario has been waiting for Ian and Elizabeth to grow up. He just wants to play with kids his age.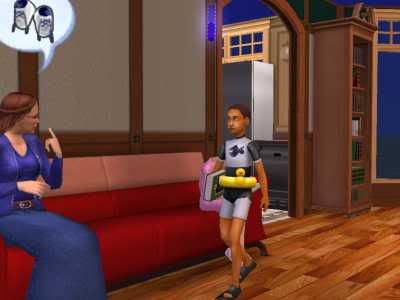 Ian also grew up that night. Sadly, we told him his dad went on vacation. He hopes he will return soon so they can go swimming together. We need to explain to him what happened.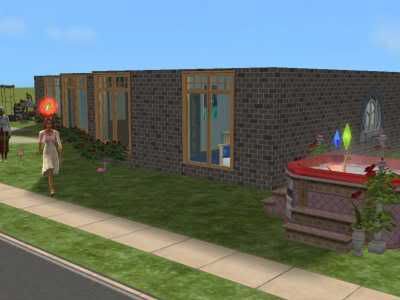 Oh no! What do we have here? Claire and Cloudy were playing in the hot tub and Tiny Bach comes out there. Who in their right mind brings a girlfriend over to their other girlfriend's house?!?!?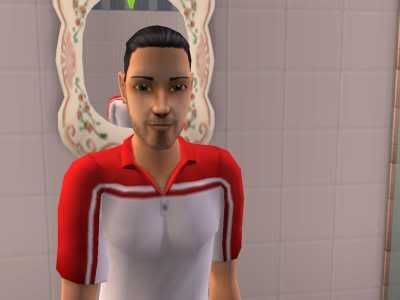 Mario, my little guy grew into a teenage. He is awfully nice looking, huh? Remind you of me? He sure is a sexy young man, just like his father. He said he wants a lot of money and to open 5 top level businesses.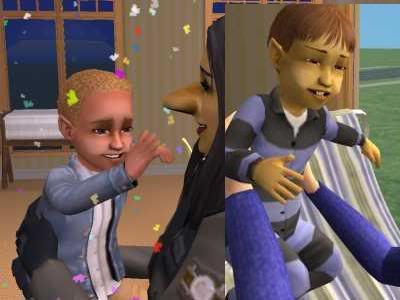 Kids sure do grow up fast. Here are my grandkids again. I do think Joe has my eyes. What a lucky kid! Still no real clues of who the dad is.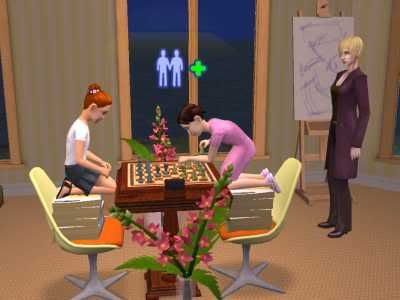 Elizabeth loves playing chess with people. Here she is with Tressie Tellerman. We put flowers close by to keep the girls happy. Sarah, Tressie's mom, stood there for awhile until the girls were done. Sarah also gave the babies kisses while visiting. Hmm, makes me wonder about their dad.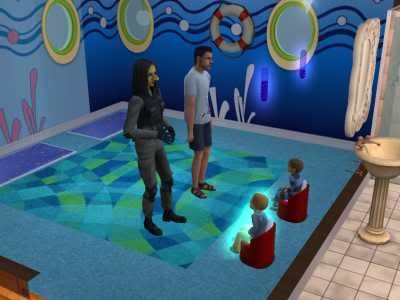 Since Ron wasn't around to help Claire, I helped out. Here we are potty training the kids. I was also able to help one learn to walk. Claire taught them both to talk.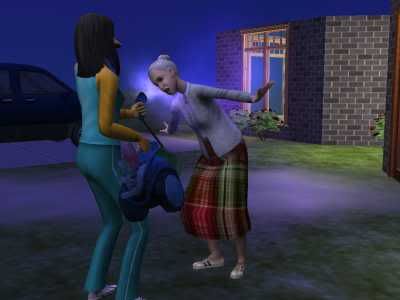 Nanny Calista! Hope you have some extra skills, Claire needs them! She is so close to her LTW, but has spent her time training the twins. Help the girl out!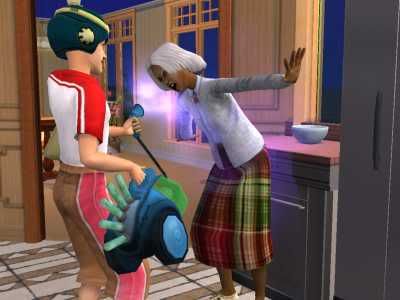 Nanny X, Mario needs skills! Give them up! He needs the skills for Uni! Come on, don't be stingy, don't you know who my dad is??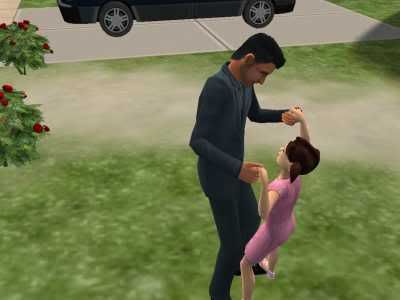 (Kenny Chesney playing)
"There goes my life
There goes my future
My everything' I love you, daddy, goodnight
'There goes my life"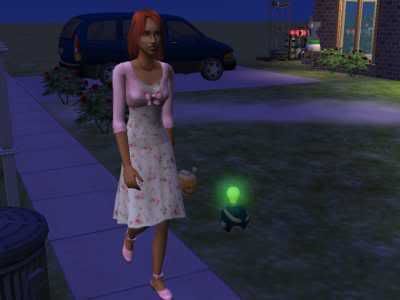 I really wonder about Tiny Bach. She walks past our house at all hours of the night. Enough that she is friends with my kids and grandkids. I wonder about her....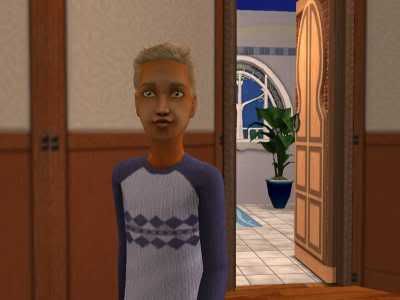 Ian finally decided his daddy wasn't returning. To show the change, he colored his hair. He told me why should he look like his dad when his dad took vacation and never returned.
Wow! He reminds me of someone....someone who lives in this hood....who could it be? Who does he look like to you?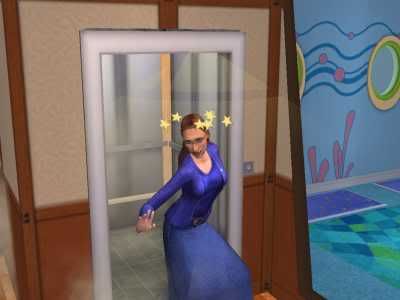 AAARRRRGGGGHHHHH!!!!!!!
Wen, are you ok? Did the elevator break again? Are you ok? No broken bones? You scared me there for a minute....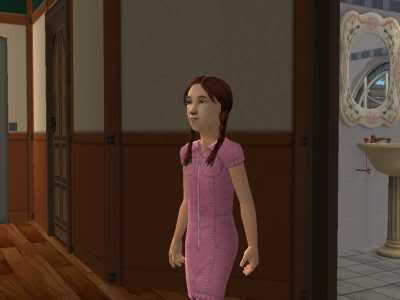 Since Ian changed his looks, Elizabeth changed hers. Her change wasn't as drastic as his was. She is quiet as a mouse around our house. I forget she lives here at times.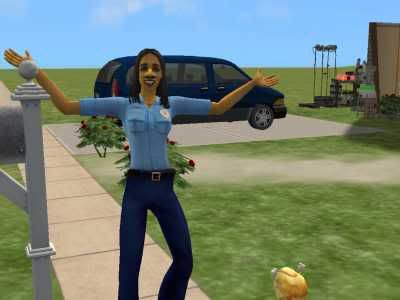 I did it! I did it! LTW for me! Aren't I great! Miss me people?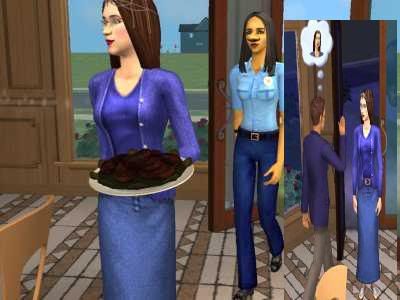 We invited the head master over and what does the brillant Wen do? She burns the food! I had to stop celebrating to show the head master around and she burns the food. Luckily for her, he liked the house and me, so the kids are all in private school now.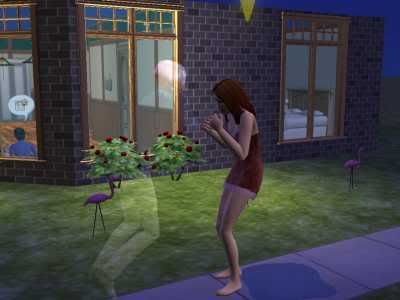 A-ha! Mom got you Wen! Way to go mom! You know she was eyeing dad from the beginning. Get her mom! She STOLE dad from you!!! GO MOM GO!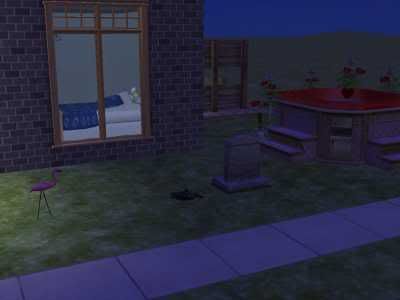 Poor Wen had no chance at all! I hope dad didn't hear me cheering on mom. He will be really mad at me, he thinks I liked Wen. I really wasn't happy to return home from college to find her here moving in on my dad and his fortune.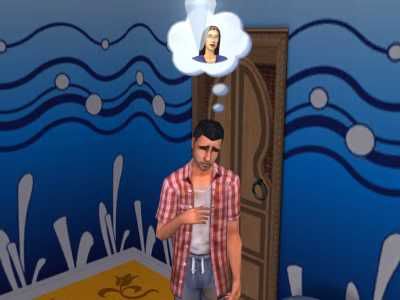 sigh...My Wen is gone...sigh How? Why? What happened? Can you tell me? I was sleeping and awoke to find her grave. What happened?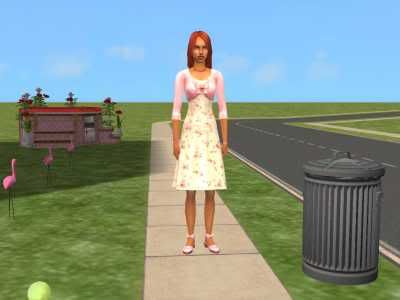 Ok, Tiny Bach, what are you hoping to see? What are you hoping to find? Why do you stalk our house? S-T-A-L-K-E-R A-L-E-R-T-!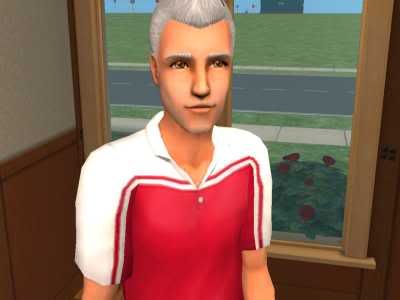 The first of three birthdays is here. I am now a sexy, single elder. My days are numbered, I know, but I will enjoy my life. Maybe one day I will find out how Wen died.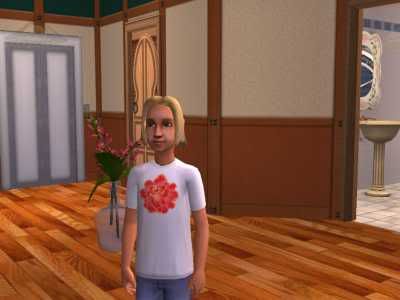 My little Joe grew into a cute young kid huh? He was ready to grow up right after my dad.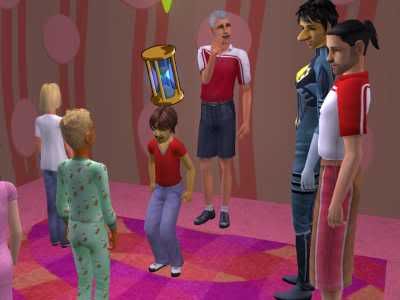 My little princess also grew up into a child. She has lighter hair than me, but she looks like me some. Somehow my nose did not pass down to my kids. At least not yet.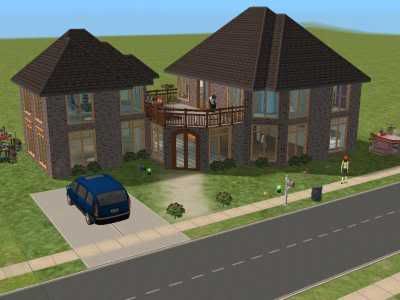 Here is our house at the end. We expanded it just a little for our large family. Any ideas on who is the daddy to the twins?